NEXT LIVE BROADCAST
THE HONEY SUITE ON JAN. 27TH AT 7PM EST.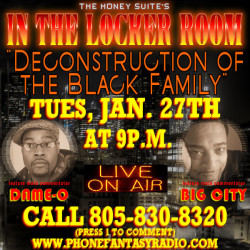 "IN THE LOCKER ROOM"
Tune in Tuesday, 1/27th at 9pm EST. to The Honey Suite on Phone Fantasy Radio. Join Lakrush with feature male commentators Dame-O & Big City for a candid discussion on the "Deconstruction Of The Black Family" When we are young, we were taught that Mom and Dad live together with their children live happily ever after, Right? Well if this is the case, why are so many of our Black families separated? What is keeping them from reuniting as one? The answer might actually surprise you. DON'T MISS THIS SHOW!!!!
 JOIN THE CONVERSATION
JOIN US LIVE